Venue: Asian American Writers' Workshop
Location:Â 112 West 27th Street, Floor 6, NYC
Date: Sunday, October 30th 7pm – 9pm
SAWCCÂ is continuing its signature salon gatherings for the informal sharing of creative projects. These meetings are a space for nurturing our works-in-progress. This is our space to get up close and personal with fellow creatives and share our multi-disciplinary artistic visions and processes. The salon is open only to South Asian women/femmes/gender nonconforming individuals. If you are interested in presenting at a future salon event, please contact us via:Â salon@sawcc.org.
Our presenting artists are:Â Tazeen Qayyum and Abda Khan.
Tazeen Qayyum (Canada/Pakistan) is a contemporary miniature painter and installation artist who received her BFA in Visual Arts from the National College of Arts Lahore, Pakistan (1996). Her work has been shown internationally in both solo and group exhibitions, some of which include 'Holding Pattern' at the Toronto Pearson Airport (2013), ' The Veiled' at the Textile Museum of Canada (2011), 'The Rising Tide', Mohatta Palace Museum, Pakistan(2010), 'Urban Myths & Modern Fables', University of Sydney, Australia and UTSC, Toronto (2007), 'A Thousand and One Days' at the Academy of Art, Honolulu, Hawaii and and Musee des Beaux, Rouen, France (2005), 'JAALA Exhibition at the Tokyo Metropolitan Museum, Japan(2004) and 'CodeLive Metro' at the 2010 Vancouver Winter Olympics.
Her work has received several critical reviews including in The New York Times (2009) and The Globe and Mail, Canada (2011/2015). She was nominated for the Jameel Prize(2013) and K.M. Hunter Award (2014).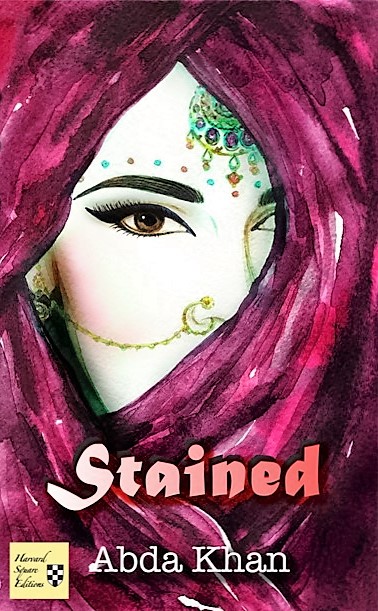 Abda Khan is a lawyer and a writer. In writing Stained, she has drawn inspiration from her work with women from the British South Asian and Muslim communities; she has seen and dealt with problems faced by many of these women, some of which are explored in the novel. She was born in Bradford, Yorkshire, and is the daughter of immigrant parents who came to the United Kingdom from Pakistan in the 1960's. She now lives and works in the Midlands; she runs her own law firm, and is married with children. Other than writing, Abda loves travel, yoga, baking and music.