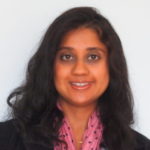 Shilpi Chandra is an art historian and curator with a focus on contemporary art of South Asia and its diaspora. Her curatorial practice is rooted in making art freely accessible to lay audiences by creating exhibitions that bring people into public and community spaces. After receiving her MA in Contemporary Art from SUNY-Purchase College, she worked as a curatorial assistant at the Katonah Museum of Art on thematic exhibitions ranging from self-taught artists to mid-century modern architecture. At the Pelham Art Center, a community based arts organization, Shilpi was responsible for managing the exhibitions program. Shilpi also has an MBA from Columbia Business School and worked in healthcare marketing for several years. She regularly teaches continuing education classes on Chinese and Indian art history and contemporary Asian art.
Anjali Goyal currently works at ArtsPool, a cooperative that provides administrative support to arts nonprofit organizations in NYC. She previously has worked as the development manager at the Asian American Arts Alliance and programs director at the Asian American Writers' Workshop. Anjali has two decades of experience in nonprofit arts administration with roles in public programming, fundraising, operations, and communications; she also freelances as a copy editor and grant writer. Her current and previous work reflects an interest in writing and literature, feminism, and representation of marginalized communities. Anjali has a BA in English from Ohio University (Athens, OH). Born and raised in Ohio, she currently lives in Brooklyn, NY.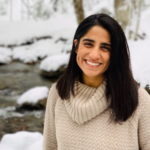 Sanya Mirpuri works as an advisory associate at Rockefeller Philanthropy Advisors, New York. A New Orleans native, Sanya moved to the city to attend New York University for her masters in art history and architecture. Previously, she attended the University of California, Los Angeles where she majored in art history and psychology. Sanya has held multiple museum development and education positions throughout her tenure in the art world, constantly focusing on sharing her love of art. Additionally, her scholarship revolves around the ownership of women's spaces in northern European art of the 18th and 19th centuries. Sanya has held representation, feminism, and equality at the forefront of her work, both in her professional and academic career.
Fatima A. Zaidi is a Pakistani-Brooklynite with significant experience in fundraising within the art world. Currently, she is the development manager at Triple Canopy, a publishing and visual arts nonprofit. Fatima grew up in the city of Karachi and has always explored her genuine passion for the arts and for advancing the culture and diverse experiences of the South Asian community. She received her BA in museum studies, painting, and psychology from Bennington College. Prior to her role at Triple Canopy, Fatima worked as the Campaign Coordinator at The Studio Museum in Harlem, and has also worked at the Public Art Fund, the Whitney Museum of American Art, and the Bronx Museum of the Arts. While in New York, Fatima has ensured a strong relationship with and support for creative South Asian groups, regularly attending exhibition openings, performances, comedy shows, and literary readings that highlight works by various desi artists and intellectuals.