Board & Staff
Chaya Babu is a writer, journalist, and activist based in Brooklyn, New York. Her work, which focuses largely on race, migration, gender and sexuality, and the arts has appeared in The Feminist Wire, Huffington Post, The Wall Street Journal, Racialicious, Open City, and more. She is a feature writer for India Abroad, a blog editor at The Brooklyn Quarterly, an organizer with East Coast Solidarity Summer. She is currently working on her first novel.
Shelly Bahl is a visual and media artist born in Benares, India, raised in Toronto and currently based in New York City. She received her B.F.A. (Visual Art and Art History) from York University, Toronto and her M.A. (Studio Art) from New York University. Her interdisciplinary work in drawing, painting, sculpture/ installation, photography and video, has appeared in a number of solo and group exhibitions in North America and internationally. Bahl is a founding artist member of SAVAC (South Asian Visual Arts Centre) and ZEN-MIX 2000: Pan-Asian Visual Arts Network in Toronto. She has also worked with a number of arts organizations as an educator, curator and arts programmer. She has taught at the University of Toronto, Ontario College of Art and Design University, Alfred University, Pratt Institute and Vermont College of Fine Art.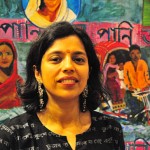 Monica Jahan Bose is a Bangladeshi-American artist, lawyer, and activist based in Washington, DC and Bangladesh. Her work includes painting, printmaking, video, installation, and performance, as well as advocacy on women's issues and the environment. Born in Britain, she has also lived in Pakistan, Bangladesh, India, Japan, and France. Her heritage is both Hindu and Muslim. She studied art at Wesleyan University and Santiniketan and has a law degree from Columbia University. She uses garments as a metaphor for the female body and spirit. Her artwork has been exhibited extensively in the US and internationally. She is the creator of a longterm collaborative project called STORYTELLING WITH SARIS with women from her ancestral village in Bangladesh.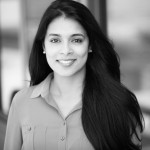 Sarah Burney is a co-founder of Burney Morgan Art Advisory and specializes in contemporary art from South Asia and the Middle East, emerging NYC artists and contemporary printmaking. Sarah was raised between Kuwait and Pakistan, graduated from Wellesley College, and has worked with Zarina Hashmi, Robert Blackburn Printmaking Workshop, and Bodhi Art. Notable projects include Zarina Hashmi's 2012 – 2013 traveling retrospective, Zarina: Paper Like Skin (Hammer Museum, Fall 2012; Solomon R. Guggenheim Museum, Winter 2013 and The Art Institute of Chicago, Spring 2013), Gallery Espace's participation in The Armory Fair 2103 and the Studio Immersion Project Fellowship at Robert Blackburn Printmaking Workshop. She is based in New York and travels frequently to South Asia and the Middle East.
Brijeet K. Dhaliwal was born in Illinois to an immigrant family who ensured she learned Punjabi language and culture while gaining a western education. She has earned multiple degrees focusing on English, as well as Library & Information Sciences, from the University of Illinois Urbana-Champaign and DePaul University. Her education has given her a solid foundation in her current career path in digital marketing, but she always seeks out learning opportunities in and out of classrooms. At present she resides in Brooklyn, freelances for a variety of organizations and businesses, doesn't write anywhere near as much as she would like to, but supports writers and artists in whatever way she can.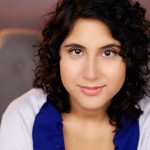 Sarbani Hazra is an actor, writer, and producer. Her acting credits include the NBC pilot, One Star Wonders and College Humor's web series Turtle Race. She originated the role of Mrs. Kapoor in the off-off Broadway production of Bollywood Wedding. Her producing credits include the pilot, Jane Don't Date, and the web series Bad Bonnie which she created. She has a B.A. in Psychology from Smith College and has trained at the Atlantic Theater Company, T. Schreiber Studio, UCB, IO West, and Groundlings. For the past decade, Sarbani has been involved with academic management and community advocacy. She was the Assistant Director of UCLA's Center for India and South Asia, after her four year tenure as the Sponsored Research Officer at Barnard College. Sarbani has worked with several community organizations like South Asian Lesbian and Gay Association, South Asian Mental Health Awareness in Jersey, and Asian Task Force Against Domestic Violence.
Josheen Oberoi heads the Art Advisory division at Delhi Art Gallery's New York location. She previously worked at Saffronart, New York as a Specialist in South Asian Art and Bodhi Art, New York as a gallerist and Associate Curator. She has a masters in medieval Indian history from Jawaharlal Nehru University, New Delhi and a masters in South Asian art history from Florida State University. Prior to this, she worked for Miditech, where she helped produce documentary series on Indian art and architecture and other projects for the BBC.
Amy T. Paul is an activist and writer based out of Jackson Heights, Queens.
She has spent 15 years organizing around issues of immigration, civil rights, worker's rights and youth development. She has worked at organizations including North Star Fund, South Asian Americans Leading Together (SAALT), Storycorps, and Culture Project. In addition, Amy served as a Board Member of Adhikaar for Human Rights; founded "The People's Walking Tour", an immigration-themed walk tour; produced the Domestic Worker's Theater Project; and co-founded Chili Third Thursdays, a monthly artists salon that rotated in living rooms across Queens. She is a strong believer in the power of art to build empathy, trust, and perspective.

Ambika Samarthya-Howard is a video producer and digital strategist.  Her freelance projects focus on social issues, specifically gender, public health, and child rights.  She received her MFA in Film at Columbia University and has done art and media projects in Japan, Bollywood, and West Africa.  She worked with the BBC Media Action in Nigeria as a broadcast TV Trainer and taught Contemporary Media Studies at Queens College. Ambika also enjoys teaching and performing bhangra.  She currently pursues filming and advertising for her other passion – wine.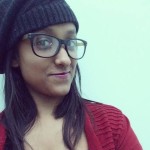 Dedunu Suraweera engages in education and community organizing, teaching artistry, and performing arts across NYC. A Staten Island-born Sri Lankan, she received her MSW from Columbia University in 2012. She is a collective member of the New York Collective of Radical Educators, East Coast Solidarity Summer, and Intern Labor Rights. Dedunu currently works along the Community Schools Initiative with South Asian Youth Action (SAYA!). She is passionate about exploring theatre as a tool for community action, and has worked with groups such as Stories of Substance, The Forum Project, and various NYC-based community organizations. She most recently performed at the South Asian International Performing Arts Festival.
Aaliya Zaveri was born in India, raised in Hong Kong, and has since lived in Edinburgh, Mumbai, and New York. She graduated from Wesleyan University in 2009. She then worked at the Asian Human Rights Commission, and, under the pseudonym Aisha Zakira, founded and ran Hollaback Mumbai, where she conducted workshops on street harassment at schools and organizations around Mumbai. She graduated from Fordham Law in 2015, and is now an Associate at O'Melveny and Myers. She is one of the organizers of Subcontinental Drift – NYC, a monthly open mic night. She also serves on the board of Manavi. Her poetry has been published in Not a Muse: A World Poetry Anthology, and Outloud Too: A Hong Kong Anthology.
Ambika Trasi
Bio Pending
Staff
Natasha Zeta is living her dream as a NYC-based, Indian-American emerging arts professional. After spending time at arts service organizations such as the Lower Manhattan Cultural Council and the New York Foundation for the Arts, Natasha joined SAWCC as their part-time Coordinator in February 2016. Natasha also is an arts consulting coordinator at nAscent Art NY, and paints in whatever spare time that leaves her.