Rashida Abuwala is an artist and advocate who maintains a professional career in social and government reform. Her abstract paintings are concerned with notions of liberation and constraint. With expertise in social innovation and system reform, Rashida has worked in youth development, social services, court innovation, grassroots policy reform, and has authored several articles and papers. A Queens native, she is a proud graduate of New York City public schools. Rashida holds honors degrees from the London School of Economics and Wesleyan University. She is a graduate of Coro Leadership NY and serves as the co-chair of the Wesleyan University Center for Prison Education's advisory board. Rashida lives in Clinton Hill, Brooklyn. @rashidaabuwala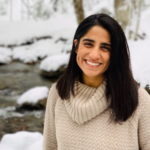 Sanya Mirpuri works as a Development Associate at The Studio Museum in Harlem, New York. A New Orleans native, Sanya moved to New York City to attend New York University for her masters in art history and architecture. Previously, she attended the University of California, Los Angeles where she majored in art history and psychology. Sanya has held multiple museum development and education positions throughout her tenure in the art world, constantly focusing on sharing her love of art. Additionally, her scholarship revolves around the ownership of women's spaces in northern European art of the 18th and 19th centuries. Sanya has held representation, feminism, and equality at the forefront of her work, both in her professional and academic career.
Fatima A. Zaidi is a Pakistani-Brooklynite with significant experience in the art world, both in US as well as in Pakistan. Currently, she is the Campaign Coordinator at The Studio Museum in Harlem, where she assists with all tasks related to raising funds for a new museum facility. Fatima grew up in the city of Karachi and has always explored her genuine passion for the arts and for advancing the culture and diverse experiences of the South Asian community. She received her BA in museum studies, painting, and psychology from Bennington College, and prior to her role at the Studio Museum, Fatima worked at Public Art Fund, the Whitney Museum of American Art, and the Bronx Museum of the Arts. While in New York, Fatima has ensured a strong relationship with and support for creative South Asian groups—regularly attending exhibition openings, performances, comedy shows, and literary readings that highlight works by various desi artists and intellectuals.