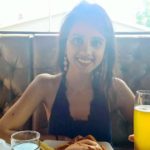 Shruti Chalamani is a progressive, Indian immigrant working as the Business Support Manager at the American Civil Liberties Union. Born and raised in New Delhi, India and having lived for almost nine years in the USA, in Texas and New York, she has found Norwalk,Connecticut to be the place she calls home. She is passionate about promoting arts based activism for engendering progressive community-based change. She serves on the Board of the Norwalk Arts Commission where she works to promote the work and visibility of artists of color.
Brijeet K. Dhaliwal was born in Illinois to an immigrant family who ensured she learned Punjabi language and culture while gaining a western education. She has earned multiple degrees focusing on English, as well as Library & Information Sciences, from the University of Illinois Urbana-Champaign and DePaul University. Her education has given her a solid foundation in her current career path in digital marketing, but she always seeks out learning opportunities in and out of classrooms. At present she resides in Brooklyn, freelances for a variety of organizations and businesses, doesn't write anywhere near as much as she would like to, but supports writers and artists in whatever way she can.

Ambika Samarthya-Howard is a video producer and digital strategist. Her freelance projects focus on social issues, specifically gender, public health, and child rights. She received her MFA in Film at Columbia University and has done art and media projects in Japan, Bollywood, and West Africa. She worked with the BBC Media Action in Nigeria as a broadcast TV Trainer and taught Contemporary Media Studies at Queens College. Ambika also enjoys teaching and performing bhangra. She currently pursues filming and advertising for her other passion – wine.
Ambika Trasi is primarily a visual artist, based in New York. She works across a variety of disciplines in her practice to examine ritual and language as transformative tools through which we shape and cement our realities. She appropriates, deconstructs, and reinterprets ceremonies (ancient and contemporary) through her diasporic perspective to explore how people mine sense out of nonsense, create order out of disorder, and insert meaning into otherwise empty space and time. Her recent research-based projects seek to decolonize and unravel colonial systems and influences by investigating the histories, myths, aesthetics, and poetics deeply embedded within ordinary objects.
Trasi is also the Managing Director and part of the Curatorial team for the educational platform Asia Contemporary Art Week (ACAW), through which she has co-organized and assisted in the curation of numerous cutting-edge exhibitions and major innovative programs held at Asia Society (2014 & 2016), The 56th Venice Biennale (2015), The Metropolitan Museum of Art (2015), Hunter College Art Galleries (2015), Seattle Art Fair (2015) and the Solomon R. Guggenheim Museum (2016). She holds a Studio Art BFA from New York University (NYU) & a minor in South Asian studies.