Board & Staff
Staff

Shruti Parekh (Administrative Coordinator) is a freelance filmmaker, editor, and multimedia artist from Atlanta, currently living in Brooklyn, NY. For the past year she has been directing, shooting, and editing music videos for independent music artists, producing fashion pieces, and working on independent films and documentaries. Her personal projects range from documentaries to animation to narrative shorts. Shruti graduated from Brown University in 2010 with a BA in Modern Culture and Media and focused on visual art, film production, and media theory. Her artistic interests cover a wide range, from drawing and painting to film, design, and new media. Her non-artistic interests cover an even wider range and are what inspire her to create art in the first place.
Board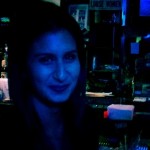 Amita Manghnani is the Manager of Public Programs & Communications at the Asian/Pacific/American Institute at NYU. Along with planning the Institute's public programs, she is involved in research, exhibition, and archival projects related to New York City's Asian/Pacific American communities. Previously, she was the program director at the Asian American Writers' Workshop and a marketing and publicity associate at the Feminist Press. She holds an MA in Archives and Public History from New York University and a BA in American Civilization with a focus on race and ethnicity from Brown University. Born in Honolulu, she now lives in Brooklyn with her boo.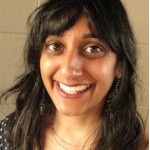 Anjali Goyal is a graduate student in library and information science at Rutgers University. From 2003–08, Anjali was the programs director at the Asian American Writers' Workshop in NYC. She has also worked in publishing as a copy editor, book publicist, and fiction editor for organizations such as UpSet Press, the Feminist Press at CUNY, and DesiLit, an online literary journal. Born and raised in Ohio, she received a BA in English at Ohio University in Athens, OH.

Born in Bombay, India, Jaishri Abichandani immigrated to New York City in 1984. She received her master of visual arts degree from Goldsmiths College, University of London and has continued to intertwine art and activism in her career, founding the South Asian Women's Creative Collective in New York and London. She has exhibited her work internationally at various venues including P.S.1/MOMA, the Queens Museum of Art, and Exit Art in New York; the 798 Beijing Biennial and the Guangzhou Triennial in China; Nature Morte and Gallery Chemould in India; the IVAM in Valencia; and the House of World Cultures in Berlin. Jaishri served as the founding director of public events and projects from 2003–2006 at the Queens Museum of Art, where she co-curated Fatal Love: South Asian American Art Now and Queens International 2006: Everything All at Once. Other international curatorial projects include Sultana's Dream, Exploding the Lotus, Artists in Exile, Anomalies, and Transitional Aesthetics. Her work is included in various international collections including the Burger Collection, the Florian Peters Messers Collection, and the Saatchi Collection.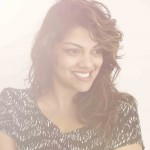 Jasmine Wahi is a New York City based independent curator and the co-founder of Project For Empty Space, a nonprofit arts organization that is dedicated to bringing contemporary art to communities world-wide through the use of abandoned and unusual urban spaces. Ms. Wahi's curatorial practice primarily focuses on addressing social issues through the exhibition and exploration of work by women of color. In addition to serving on the SAWCC Board, Jasmine is also a volunteer teacher at GEMS (the Girls Educational Mentoring Services network) and an advocate for women/girls sexual rights.

Josheen Oberoi is a specialist in South Asian art and currently works at the auction house Saffronart (New York). She previously worked at Bodhi Art, New York as a gallerist and subsequently as associate curator. She has received a masters in medieval Indian history from Jawaharlal Nehru University, New Delhi and a masters in South Asian art history from Florida State University. In the past, she worked for Miditech, where she assistant-produced documentary series on Indian art and architecture and other projects for the BBC. Currently she is interested in the confluences and disjunctures between the textual and visual aspects of South Asian history.

Marcy Chevali is a studio artist working in sewing thread, fibers, lint, tracing paper, tea, sugar, turmeric, and water drawn from a nearby river. She received a BFA from The Ohio State University and explored the spatial metaphors of her emotions while earning a MFA from Maine College of Art. Her work has been shown at venues such as Aicon Gallery, AC Institute, ICA at MECA, Gallery of Contemporary Art at Sacred Heart University and with organizations such as 4heads, Art Connects New York, and SAWCC. She recently completed a six-month residency with Gallery Aferro. During the pauses from tangling or untangling thread, she twists images into short video collaborations.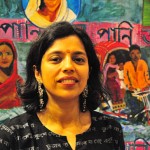 Monica Jahan Bose is a Bangladeshi-American artist, lawyer, and activist. Her work includes painting, drawing, printmaking, installation and sculpture, as well as advocacy on women's issues, the arts, and the environment. Born in Britain, she has also lived in Pakistan, Bangladesh, India, Japan, and France. Her heritage is both Hindu (father's side) and Muslim (mother's side). She studied art at Wesleyan University and Santiniketan and has a law degree from Columbia University. She spent five years in Paris, where she had two solo gallery exhibitions, an invitational show at UNESCO, and was one of 12 nominees invited to participate in the Prix Marin Exhibition of emerging painters in 2010. She has also exhibited her work in Bangladesh, India, Japan, and the US. She uses garments as a metaphor for the female body and spirit. She now lives and works in Washington DC, spending part of the year working in Paris and Dhaka. She is an artist-in-residence at the Red Dirt Studio Seminar and serves on the board of Samhati, a DC-based Bangladeshi women's organization that creates small projects focused on ecology and literacy to empower poor women in Bangladesh.

Shelly Bahl is a visual and media artist born in Benares, India, and currently based in Toronto and New York City. She received her BFA (Visual Art and Art History) from York University, Toronto and her MA (Studio Art) from New York University. Her interdisciplinary work in drawing, painting, sculpture/ installation, photography and video, has appeared in a number of solo and group exhibitions in North America and internationally over the past 16 years. Her recent projects include two-person and group exhibitions at: Art Gallery of Greater Victoria, BC; India Art Summit, Delhi; Asian Arts Initiative, Philadelphia; Aicon Gallery, NY; Religare Arts Initiative, Delhi; Gales Gallery/ York University, Toronto; Dazibao, Montreal; Guild Gallery, NY; Queens Museum of Art, NY; Experimental Art Gallery/ Habitat Centre, Delhi; and Mattress Factory Museum, Pittsburgh. Bahl is a founding artist member of SAVAC (South Asian Visual Arts Centre) and ZEN-MIX 2000: Pan-Asian Visual Arts Network in Toronto. She has also worked with a number of post-secondary institutions and arts organizations as an educator, curator and arts programmer.