November 13th, 7-10pm
SAWCC's Soiree and Annual Benefit
An evening of incredible live music, comedy, and a silent auction over cocktails at the swanky 2A bar in Alphabet City. Featuring performances by Kiran Ahluwalia, Aparna Nancherla, and Ashni.
October 15th, 2014
December 14, 2013–January 18, 2014
Opening Reception: December 14, 4–7pm
SAWCC's 16th annual visual arts exhibition, curated by Raúl Zamudio, featuring the works of eighteen artists at the Queens Museum.
December 5th, 2013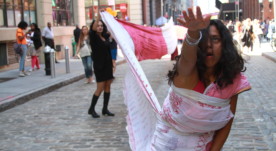 SAWCC's SUBLIME, presented at the DUMBO Arts Festival, was a huge success—check out photos of our two days at DAF!
October 31st, 2013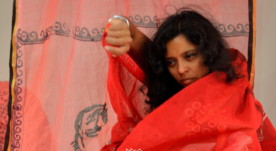 DUMBO Arts Festival
September 28–29, 2013
Saturday–Sunday, 12-6 pm
Experience the sublime in its beauty and terror in this engaging and interactive performance art series presented by SAWCC.
September 12th, 2013
Friends, members, supporters! Please make a tax-deductible donation to SAWCC to help us continue showcasing and supporting the work of South Asian women artists, as we have done for the past 16 years.
June 20th, 2013