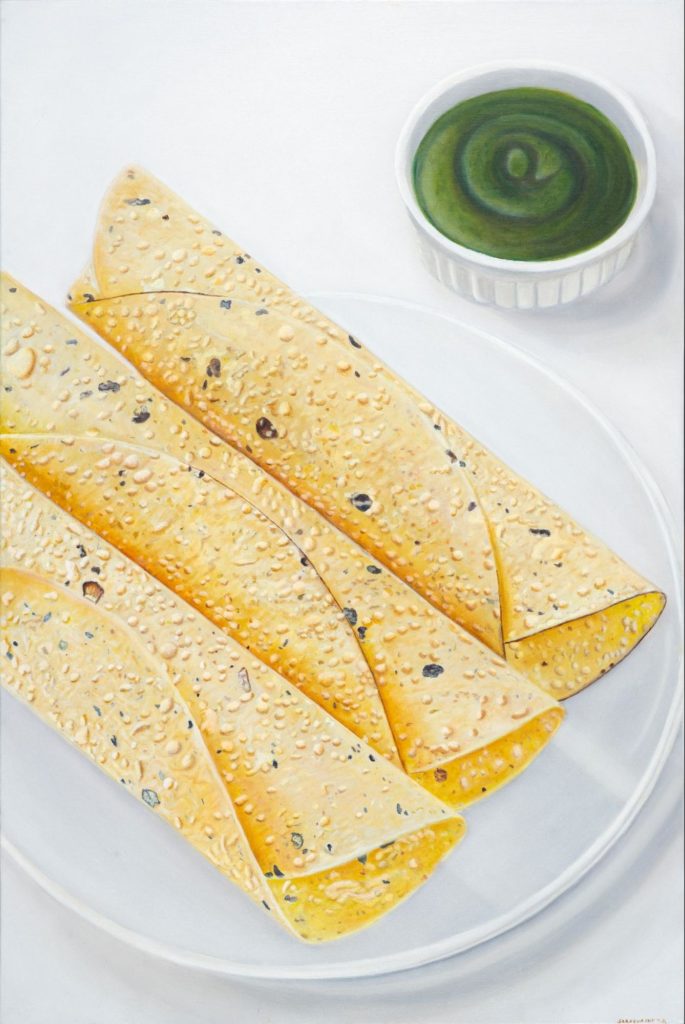 Sarasvathy TK | Papad, 2021 | Oil on linen
June 9-12, 2022
Opening Reception: Thursday, June 9, 6-8pm
Gallery Hours: Fri, 11am-6pm; Sat, 11am-6pm; Sun, noon-4pm

Foley Gallery
59 Orchard Street
New York, NY 10002
Artist Sarasvathy TK will be presenting a pop-up solo show: Bhojan, an exhibition of twelve paintings of Indian food depicted in a hyperreal style. SAWCC will be presenting public programs in collaboration with the artist that will provide a deeper context into the foods of the Subcontinent.
Bhojan, defined as "meal" in Hindi, presents intricate depictions of a panoply of Indian foods that may be served as an elaborate meal on a special occasion or presented to an honored guest. Starting with a meticulously rendered Mango Lassi as an aperitif, moving into several main courses and ending with Jalebis for dessert, the paintings are true to life in their colors, textures, and vividly captured details. Food, especially in the diaspora, is so inextricably linked to culture and heritage that it is almost a cliche. Sarasvathy takes that cliche and blows it up to super-human size to provide fresh reminders of how truly delectable the food is while alluding to its diverse histories and migration patterns.
In conjunction with the exhibition, SAWCC will host a panel discussion on Saturday, June 11th at 4pm with Chitra Agrawal, co-founder of Brooklyn Delhi; Barkha Cardoz, managing member of the Cardoz legacy; Sarasvathy TK, artist; Zainab Shah, contributor to NYT Food, Bon Appetit, and Saveur; and moderated by India Witkin, creator and host of the podcast Eating America with India. To RSVP and for more info, click here.
Sarasvathy TK paints hyper-realistic still lifes that infuse the European still life tradition with new global flavors. Starting each piece in her New Jersey kitchen, she prepares recipes from her native India and beyond. Then in her studio, she renders each dish in oil on canvas, from the distinctive puff of the chola bhatture to the glistening oil fritter, onion pakora. Each mouthwatering painting becomes a vessel for the artist to honor her ancestral traditions, channeling the influence of British and American pop with a brash energy that is very much contemporary.
Drawing on her background in computer science, Sarasvathy creates her eye-tricking works with a process that involves cooking, plating and lighting– followed by hundreds of photographs and sketches, where each component requires extensive detailing and exactitude. Each canvas invites intimate engagement, stimulating the senses and sparking personal reflections on how dishes travel across generations and oceans.
Sarasvathy has won many prizes for her work including the Award for Merit at the American Women Artists' 2020 Spring Exhibition. She has exhibited nationally and internationally at many museums, galleries, and art festivals such as the Monmouth Museum in NJ and the Affordable Art Fair in Singapore.
SAWCC's programs are supported, in part, by public funds from the New York City Department of Cultural Affairs, in partnership with the City Council.