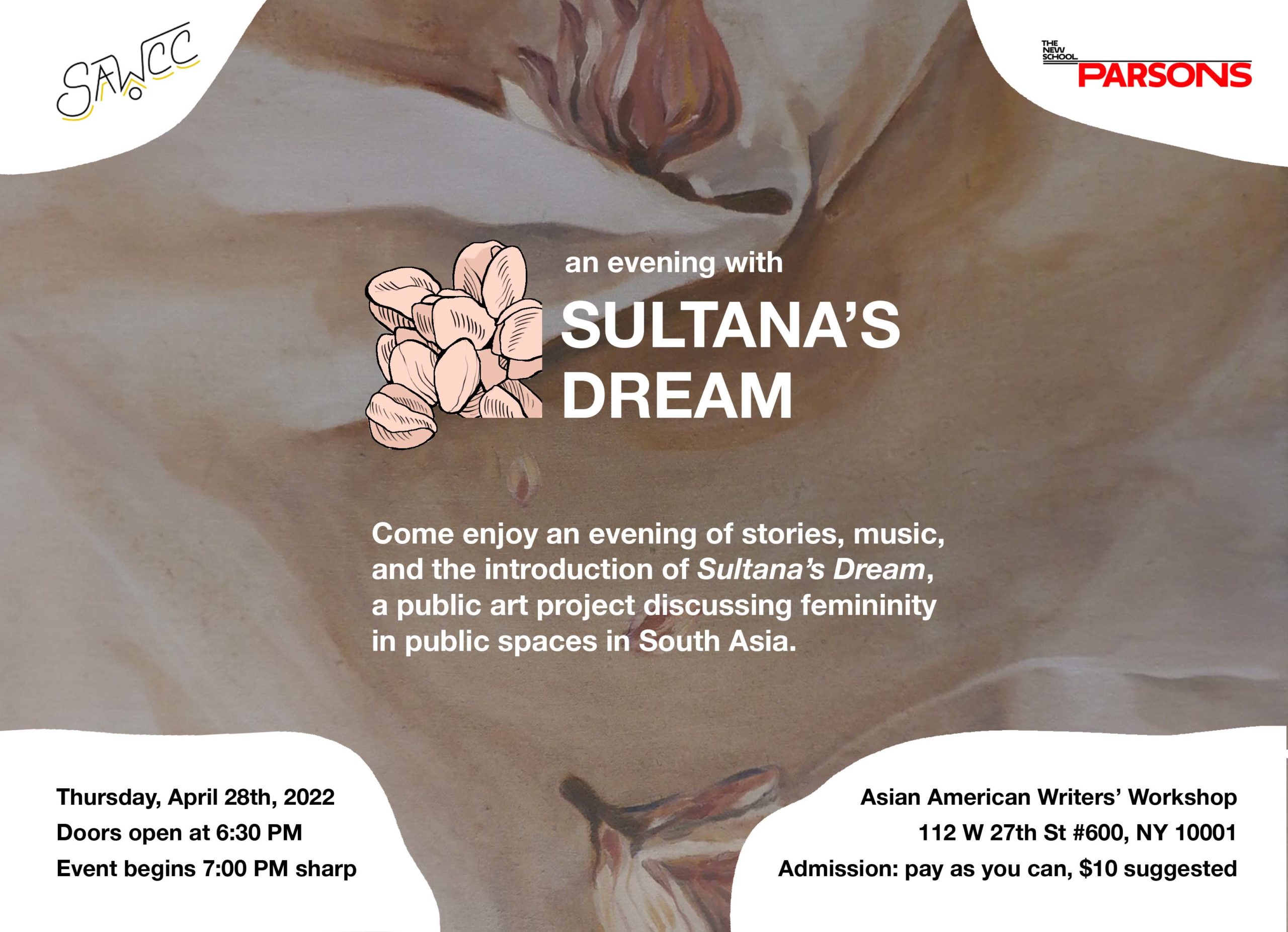 SAWCC, in partnership with students from Parsons School of Design, is presenting a night of storytelling by South Asian creatives.
Thursday, April 28
Doors open at 6:30pm
Event begins at 7:00pm

Asian American Writers' Workshop
112 West 27th Street #600
New York, NY 10001

SAWCC, in partnership with students from Parsons School of Design, is presenting a night of storytelling by South Asian creatives.
Our curated lineup of storytellers will share poetry, song, and memories on the intersection of femininity, identity, and existing in public spaces.
This event is taking place in conjunction with an upcoming installation in Karachi this summer, which will feature sculptures created from motia (Arabian jasmine flowers) to explore the marginalization of femininity in South Asian public spaces, evoked by the 1905 Bengali feminist utopian tale, Sultana's Dream.
Curators:
Zahra Mansoor is an interdisciplinary artist of Pakistani origin. Her work centers human connection, femininity, and satire.
Tessa Makai is an interdisciplinary artist with a focus on illustration, music, and the natural world.
Tessa and Zahra have worked together on several projects over the past three years, combining their different perspectives to create multifaceted, cross-cultural artworks.

Writers & Storytellers:
Minah Ali is a civil engineering student at the Cooper Union and is from Karachi, Pakistan. Her interests include urban transportation planning, foreign aid dependency, and the role of women in development.
Ayesha Bashir (she/her), is an interdisciplinary artist from Karachi, Pakistan. Her practice is driven by sea/horses, slow cinema, and the New York School of poets. She is currently a senior at Bennington College and a film programming intern at MUBI.
Kiran Chandra is an artist and educator living in Shanghai.
Olivia Dick is a third year anthropology major at Lang (New School) who loves music, graphic design, and learning about nostalgia.
Sanjukta Hazarika is an urban planner by profession. She is Indian, grew up in Kuwait and Oman, and lived in London before moving to NYC.
Saem Iftikhar is 20 years old and grew up in Lahore, Pakistan. A self-taught musician, he has traveled Pakistan performing live with acts such as Misbah, Keeray Makoray, and Shorbanoor; he has also performed with his own band Avaragard, as well as under his own name. He currently lives in New York.
Fizzah Mansoor is a cognitive science and philosophy major at the University of Toronto. Her writing centers on music, politics, media, and herself.
Anushka Maqbool is an aspiring urban planner whose lived experiences have developed her fascination with understanding how cities work and how people interact with spaces. She's particularly interested in the concept of "the right to the city" and hopes to work towards more equitable approaches to urban development in her hometown of Karachi.
Prerana Nahari is a writer, poet, and aspiring filmmaker from Bangalore, India.
Maya Razvi is from Karachi, Pakistan and is currently a junior at Bennington College in Vermont, where she studies visual arts and literature.
Ehani Schneiderman is queer South Asian writer from New York City. She hopes to connect with others by sharing her truths through poetry, fiction, and cultural exchange. When she doesn't have her nose in a new book, you can find her watching the waves roll by at the closest beach.
Puneet Singh is a queer, first-generation Punjabi-Sikh American born and raised in occupied Shoshone/Goshute territory (so-called Utah). He is slated to graduate from the New School's Environmental Policy & Sustainability Management program this December, planning to right for eco-socialism and a transboundary Punjabi cultural resurgence.
SAWCC's programs are supported, in part, by public funds from the New York City Department of Cultural Affairs, in partnership with the City Council.