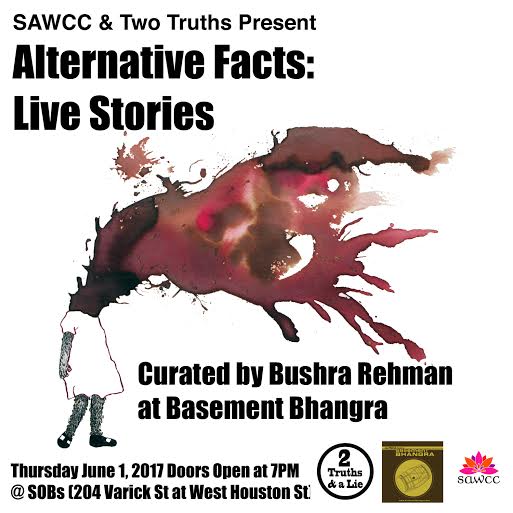 Image courtesy of Sa'dia Rehman
When your head is spinning from the alternative facts that a bumbling, fascist government is throwing your way, come out and set the record, your mind, and your body straight with some good old-fashioned truth-telling and dancing. This year, to celebrate 20 years of arts and resistance, SAWCC is hosting a reading followed by a dance party at DJ Rekha's Basement Bhangra, also celebrating 20 years. Featuring writers from Rehman's Two Truths and a Lie Writing Collective: Rathini Kandavel, Veda Kumarjiguda, Nadia Misir, Soniya Munshi, Adeeba Afshan Rana, Bushra Rehman, and Tara Sarath.
Date & Time:Â Thursday, June 1, 2017; Doors at 7 PM, Reading starts at 7:30 PM
Place: SOBs​, 204 Varick Street (at West Houston Street), New York, NY 10014
FREE ENTRY before 8pm with RSVP here
Participant Biographies:
Rathini Kandavel is a Tamil-Sri Lankan-American, queer transgender educator and writer known for being cautious. Born and raised in a large Tamil-Sri Lankan community near Los Angeles, Rathini lives in NYC where he practices throwing caution to the wind. His writing is inspired by his community.
Veda Kumarjiguda is a writer living in Brooklyn. She's working on her first novel and she also co-hosts a podcast about off-Broadway theater called No Intermission.
Nadia Misir grew up near the elevated train tracks of the A train in a part of Queens you've probably never heard of. She writes, sometimes steals library books, and enjoys fictionalizing life's truths.
Born and raised off the 7 train, Soniya Munshi moved through local suburbs, the Midwest, and many Brooklyn neighborhoods before moving back to her home borough of Queens in 2007. Soniya spends her days (and some evenings) teaching Sociology and Asian American Studies at the Borough of Manhattan Community College.
Adeeba Afshan Rana is a poet and librarian who reads and writes in Brooklyn, NY. She often goes on adventures, works with young people, swims in oceans, and cooks meals for family and friends. She aspires to be a goddess of knowledge.
Bushra Rehman's Corona was noted by Poets & Writers on its Best Debut Fiction list and was featured in the LA Review of Books as a work of radical South Asian American literature. Rehman co-edited Colonize This! one of Ms. magazine's "100 Best Non-Fiction Books of All Time."
Tara Sarath is a writer, freelance publicist, and day-jobber. She is an organizer for Subcontinental Drift NYC. She has been published in The Indypendent and was a contributing editor for the Broome Street Review. She is also currently an editor for a nonprofit press specializing in South Indian literature.
This program is supported, in part, by public funds from the New York City Department of Cultural Affairs, in partnership with the City Council; and by the New York State Council on the Arts with the support of Governor Andrew M. Cuomo and the New York State Legislature.