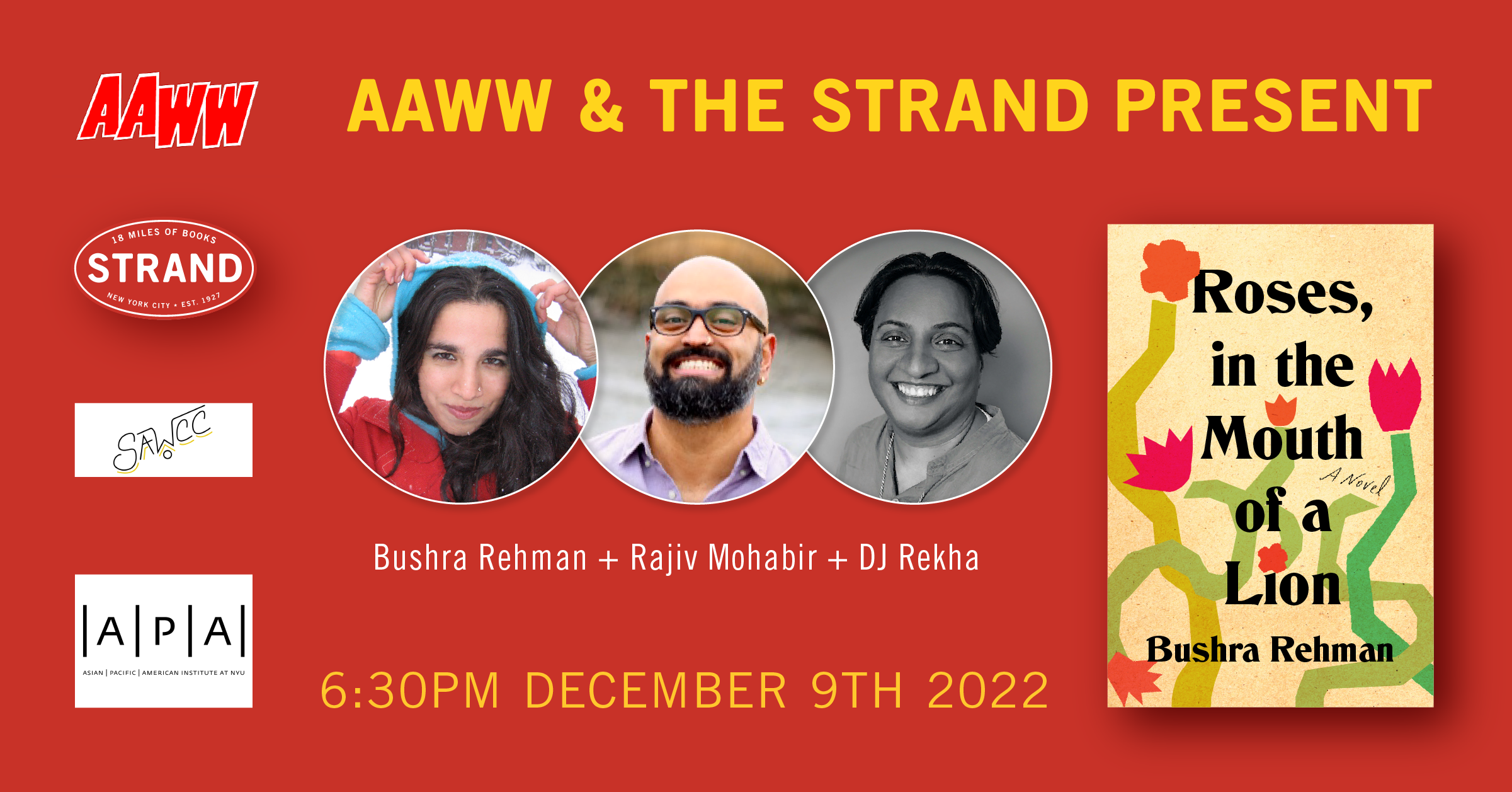 Bushra Rehman discusses her new novel Roses, in the Mouth of a Lion, with Rajiv Mohabir, author of Antiman. Punctuated by both joy and loss, full of '80s music and beloved novels, Roses, in the Mouth of a Lion is an unforgettable story about female friendship and queer desire in a Pakistani-American community in Queens. DJ Rekha will play an intro and closing set at the event.
December 9, 2022

The Strand
Rare Book Room (3rd floor)
828 Broadway at 12th Street
New York, NY 10003

RSVP here
Tickets: $7.71 ($34.32 with signed book)
Tickets not available at the door; we expect the event to sell-out.

Doors open 6:30 PM
6:30: Mingling, Music by DJ Rekha
7 PM: Conversation with Bushra Rehman and Rajiv Mohabir
8 PM: Book signing, Mingling, Music DJ Rekha
Bios:
Bushra Rehman's first novel Corona, a poetic on-the-road adventure about being South Asian in the United States, was chosen by the NY Public Library as one of its favorite novels about NYC. She's co-editor of Colonize This! Young Women of Color on Today's Feminism and author of the collection of poetry Marianna's Beauty Salon, described by Joseph O. Legaspi as "a love poem for Muslim girls, Queens, and immigrants making sense of their foreign home—and surviving." Roses, in the Mouth of a Lion which centers around the idea of friendship and queer desire will be released with Flatiron Books.
Rajiv Mohabir is an Indo-Caribbean American author of three acclaimed poetry collections, The Taxidermist's Cut, Cowherd's Son, and Cutlish; a book of translation, I Even Regret Night; and
his hybrid memoir, Antiman. He is winner of the 2015 Kundiman Prize, a 2015 PEN/Heim Translation Fund Grant, finalists for the 2017 and 2022 Lambda Literary Awards, finalist for the
2022 PEN Open Book Award, the 2021 National Book Critics Circle Award for Poetry, and
longlisted for the PEN/Voelcker Award in Poetry. Mohabir has received fellowships from
Voices of Our Nationʻs Artist foundation, Kundiman, The Home School, and the American
Institute of Indian Studies language program. He received his MFA in Poetry and Translation
from Queens College, CUNY and his PhD in English from the University of Hawai`i. Rajiv is
currently a professor at Emerson College.
DJ Rekha, née Rekha Malhotra, pioneered the merging of Bhangra and Bollywood sounds with
contemporary electronic dance music. Rooted in hip-hop and dub their DJ sets range from
Brazilian Baile Funk to Balkan Beats and everything in between. They founded Basement
Bhangra, one of NYC's longest-running club nights .Their debut album "DJ Rekha presents Basement Bhangra" (featuring a track with Wyclef Jean) won much critical acclaim and was nominated for best DJ album by the 2008 Plug Awards. They are the founder of Basement
Bhangra™, Bollywood Disco, and co-founder of Mutiny Club nights. They were named "Ambassador of Bhangra" by the New York Times.
This program is co-sponsored by the Strand, Asian American Writers' Workshop, Asian/Pacific/American Institute at NYU, and SAWCC.