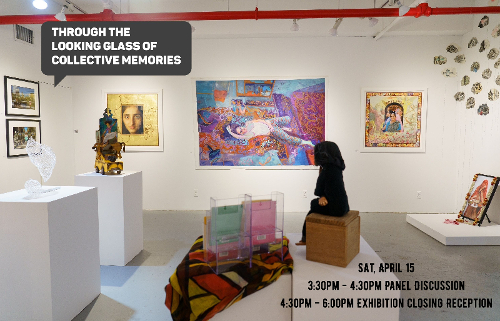 SAWCC presents an artists talk and closing reception for our exhibition Social Memory: Sites of Remembrance.
Join us first for a panel discussion addressing themes in the exhibition, which questions the symbiotic relationship between collective memory and personal identity. How does cultural consciousness prevail in our social memories? How do we navigate the fine line between cultural preservation and self representation within the diaspora? Panelists include artists and arts administrators represented in the exhibition, Rhea Aggarwal, Marcy Chevali, ArtSparks Collective (Nisha Nair), and Fatima Zaidi; moderated by curator Shilpi Chandra.
SAWCC will host a closing cocktail reception in the gallery following the talk. Join us for a final look at the exhibition!
For more info on the exhibition, click here.
April 15 from 3 to 6 pm
RSVP here.
Elizabeth Foundation for the Arts
323 W. 39th Street
New York, NY 10018
About the Curator: Shilpi Chandra is an art historian and curator with a focus on contemporary art of South Asia and its diaspora. Her curatorial practice is rooted in making art freely accessible to lay audiences by creating exhibitions that bring people into public and community spaces. After receiving her MA in Contemporary Art from SUNY-Purchase College, she worked in the curatorial department at the Katonah Museum of Art on thematic exhibitions ranging from self-taught artists to mid-century modern architecture. At the Pelham Art Center, a community based arts organization, Shilpi was responsible for managing the exhibitions program. Shilpi also has an MBA from Columbia Business School and worked in healthcare marketing for several years. She regularly teaches adult education classes on Chinese and Indian Art History and Contemporary Asian Art.