Sikh Women Speak Out on Faith and Feminism
Thursday, June 9, 2011, 7pm
@ Asian American Writers' Workshop
112 West 27th Street, Suite 600
New York, New York
From the Middle East to the Midwest, revolution is spreading.  Women of all faiths have joined radicals in solidarity, even as their own rights come under fire by conservative elements.  But besides the images we see—women in hijab with their fists raised in Tahrir Square; women of all races with their fists raised in Madison—what about the women we don't see, women who advocate for themselves and their sisters in the homes, gurudwaras, mosques, and temples?  What does it mean to be religious and radical?
In this panel, author Neesha Meminger (Jazz in Love, Ignite 2011), community organizer Tejpreet Kaur (Sikh Coalition), and blogger Simran Kaur (thelangarhall.com) will discuss the ways in which their work explores issues of faith and feminism, particularly in the diaspora.
Panelist bios:
Neesha Meminger  was born in Punjab, India, where she lived until she was almost five. For the next twenty years, she was in Toronto, Canada until moving to the United States as a teenager where she began writing her own stories. In the next decade or so, her writing would appear in various anthologies, journals, and magazines.
Neesha holds a BA in Film and Media Arts from Ryerson University in Toronto, and an MFA in Creative Writing from The New School For Social Research in New York City.
Her independent films have screened at international film festivals, she has taught literature and creative writing courses to undergraduate freshmen in New York, served as a board member for many arts and cultural organizations, and counseled women and youth in crisis.
Shine, Coconut Moon, her first novel, made the Smithsonian's Notable Books list and was selected as one of the Top 100 Books of 2009 by the New York Public Library's Stuff for the Teen Age. The novel was also nominated as a Best Book for Young Adults by the American Library Association as well as the online CYBILS award. Jazz in Love is Neesha's second novel for young adults. She also writes paranormal romance under a pen name—which she refuses to disclose to the uninitiated.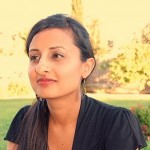 Simran Kaur was born and raised in the UK and has embraced being a citizen of the diaspora. She currently manages a public health program and travels regularly for global health projects. Simran is an active member of the Sikh community in California, volunteering with Jakara Movement and co-founding the Langar Hall, a progressive Sikh blog. She is also the Community Liaison for Saffron Press (an independent publishing house which focuses on multicultural literature with a special interest in books for and about Sikh children) and acts as the Affirmative Action Officer on the Board of Directors for the American Civil Liberties Union (ACLU) of Northern California.
Tejpreet Kaur is currently developing the Community Organizing program at the Sikh Coalition. She works with Sikh youth and families in low-income neighborhoods in Queens, NY to identify community needs, and resources. Tejpreet brings over ten years of social justice experience from Canada, where she actively participated in anti-oppressive work involving systemic issues affecting and limiting advancement for women, immigrants, low-income households, and people of color.  Tejpreet holds a Bachelors of Arts and Sciences from the University of Toronto.  In her spare time, she enjoys practicing yoga and is currently working on a Sikh Women's Voices project, where she is documenting intergenerational stories of Sikh women's experiences of migration, struggle and resistance.