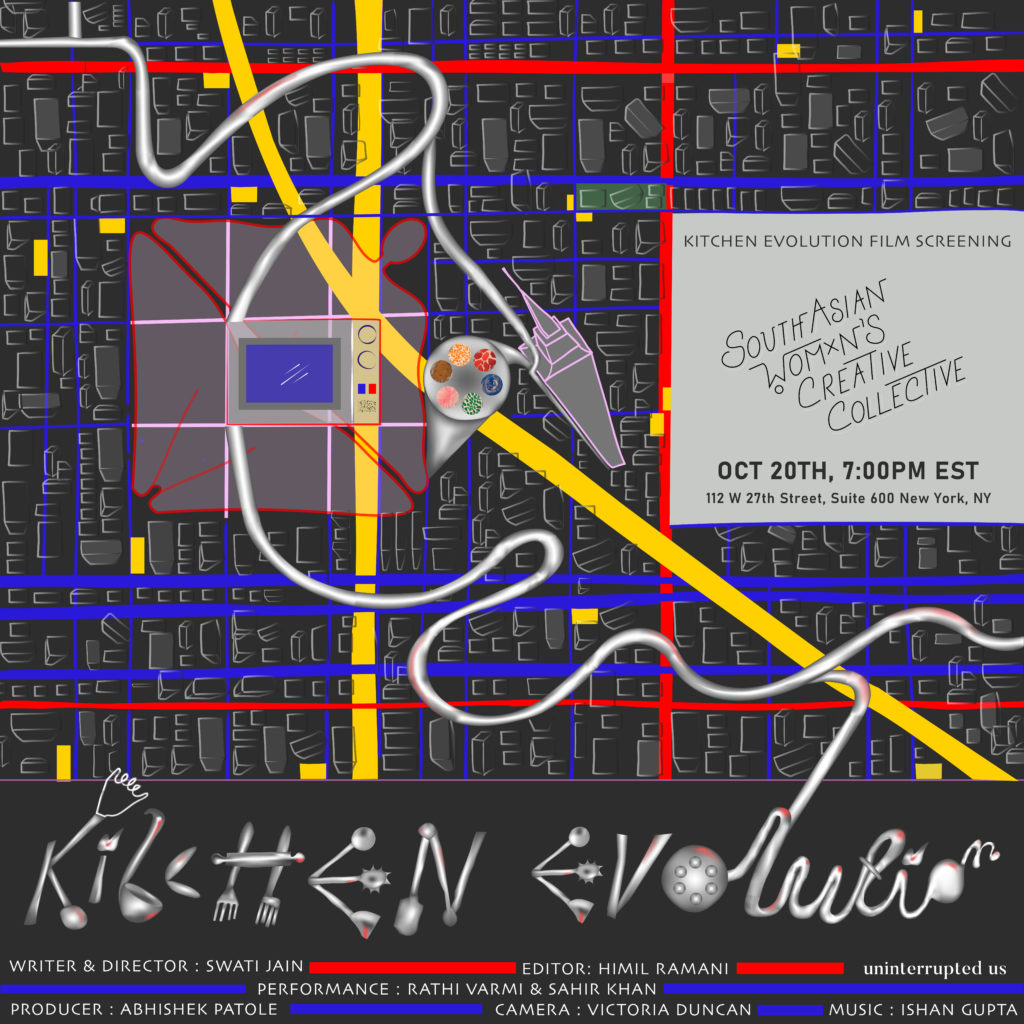 Join SAWCC for a screening and conversation on the architecture of the kitchen and the alarming cultural, social, and contemporary biases baked into the design of our everyday life from South Asia to America.
Thursday, October 20, 2022
Doors at 6:30pm
Event at 7:00pm
Asian American Writers' Workshop
112 West 27th Street
#600
New York, NY 10001
SAWCC presents a film and panel discussion on the architecture of the kitchen and the inherent cultural, social, and patriarchal biases built into its usage. Kitchen Evolution breaks away from the present and dares to imagine a future where the private domestic kitchen evolves into a communal urban food system that takes away the gendered drudgery of food production.
The screening of the short film will be followed by a panel discussion with the creator of Kitchen Evolution, Swati Jain, and architectural scholar, Lydia Kallipoliti, moderated by architectural designer Mai Abusalih. A wine reception will follow.
Bios:
Swati Jain (writer/director) is an architectural designer, artist, and researcher based in New York City. She works at the intersection of art, design, and technology, and is currently researching gender studies and cultural practices in South Asian and Western architectural pedagogy. She has experience in urban design, exhibition design, preservation, and institutional projects in both the United States and India. Jain received a Master of Science in Advanced Architecture Design from Columbia University's Graduate School of Architecture, Planning and Preservation; post-graduate degrees in Indian aesthetics and critical theory, aesthetics, and practice from Jnanapravaha Mumbai; and a Bachelor of Architecture from University of Mumbai.
@uninterrupted_us and @braveneworld
Lydia Kallipoliti (panelist) is an architect, engineer, and scholar whose research focuses on the intersections of architecture, technology, and environmental politics. She is an associate professor at the Cooper Union in New York. Previously, she taught at Rensselaer Polytechnic Institute, where she directed the Master of Science program; Syracuse University; Columbia University (GSAPP); and Pratt Institute. She was also a visiting fellow at the University of Queensland and a visiting professor at the University of Technology, Sydney in Australia. Her work has been published and exhibited widely including the Venice Biennial, Istanbul Design Biennial, Shenzhen Biennial, Oslo Architecture Trienalle, Onassis Cultural Center, Lisbon Triennale, Royal Academy of British Architects, Storefront for Art and Architecture in New York and London Design Museum. She is the author of the award-winning book, The Architecture of Closed Worlds, Or, What is the Power of Shit (Lars Muller Publishers, 2018), and History of Ecological Design for Oxford English Encyclopedia of Environmental Science; she is also the editor of "EcoRedux," a special issue of Architectural Design magazine (AD, 2010). Kallipoliti holds a Diploma in Architecture and Engineering from the Aristotle University of Thessaloniki, Greece; a Master of Science (SMArchS) in design and building technology from MIT; and a PhD in history and theory of architecture from Princeton University. She is the principal of ANAcycle thinktank, which has been named a leading innovator in sustainable design in Build's 2019 and 2020 awards. Kallipoliti is head co-curator of the upcoming Tallinn Architecture Biennale in 2022 with the theme "Edible, Or, The Architecture of Metabolism."
@lydiakallipoliti
Mai Abusalih (moderator) is an architectural designer and researcher. Her work interrogates the urban built environment in her city, Khartoum, by delving into the current and historical social, cultural, and political influences in Sudan. Through the study of spaces of death, protest, and public life—conducted via essays, podcasts, and exhibitions—her work aims to uncover the architectural narratives that shape the spatial history of the city. She graduated from Columbia University's Graduate School of Architecture, Planning and Preservation with an honor award for excellence in design.
@maiabusalih