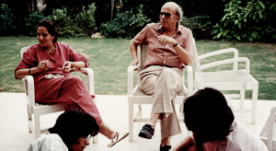 Don't Say a Word: Censorship and the Artist's Process
Panel Discussion on Contemporary Pakistani Art
SAWCC is proud to present a panel discussion on Pakistani art and censorship. As contemporary Pakistani art quickly crosses borders and gains international leeway, local art production is nevertheless stifled by government manipulation and censorship. Acutely aware of the nation's socio-economic state of affairs, controversial imagery as a means of commentary and communication is still gravely discouraged and suppressed.
DATE: Tuesday, September 29th
LOCATION: Asian American Writers' Workshop
16 W32nd St (between 5th Ave and Broadway), 10th floor
TIME: 7-9pm
SLIDING SCALE: $5-$7
*Food and beverages will be served
Razia Sadik from Columbia University comes together with Ruby Chishti, Shalalae Jamil, and Asma Kazmi, three female Pakistani artists practicing in theU.S., to generate a dialogue around negotiating censorship and art production inthe West as Pakistani artists. What are the consequences of such liberties andassuagements when practicing in the diaspora? What responsibilities must still be considered within this framework?
Ruby Chishti graduated from the National College of Arts Lahore, Pakistan andresides in New York. She has been exhibiting internationally since 2000 in Lahore, Sydney, Hong Kong, New Delhi, Chicago, Islamabad, New York, andrecently at Center of Contemporary Art, Sacramento. Her work is held in private collections and featured in books and magazines. She has held residencies in England and Pakistan and in 2006 she received a fellowship award at Vermont Studio Center. Her work is very personal and political, making strong statements about gender issues and war. She takes humble and ephemeral materials andcreates works of art such as "Weapon of Mass Destruction" and "Cessation."
Shalalae Jamil was born in Karachi, Pakistan in 1978. Educated at Bennington College (BFA, 2001) and the School of the Art Institute of Chicago, (MFA, 2006) she has since then taught, exhibited, and curated work in Pakistan, the U.S.,and the U.K. Using photography, video, installation, and elements of performance, her works target home as a region consumed by the collisions between religion, tradition, and modernity. In 2009, she has shown work at theKara Film Festival, Grey Noise, and Woman Made Gallery. Her work is in private collections in India, Pakistan, and the U.S. Currently the artist lives and works between Karachi and New York.
Asma Kazmi was born in Pakistan and studied at Massachusetts College of Artin Boston and the School of the Art Institute of Chicago. Her work has been exhibited and included in collections such as the Contemporary Art Museum in St Louis; Galerie Sans Titre, Brussels, Belgium; Gallery 400, University of Illinois in Chicago; Boston Underground Film Festival; Balagan Film and Video Series, Boston; Women In Film & Video/New England; and the MassArt Film Society.
Razia Sadik is an artist, curator, and college art teacher. She was born in Karachi in 1972 and was educated at the National College of Arts in Lahore. She completed her MFA at Central Saint Martins College of Art and Design, London in 1999. Following this she was a studio and contextual studies instructor at theDepartment of Design and the Department of Fine Art at the National College of Arts, Lahore and the Beaconhouse National University–School of Visual Arts, Lahore, Pakistan for seven years. She is currently pursuing her doctorate in theArt and Art Education Program at Teachers College, Columbia University, New York. In 2008 Razia coordinated and presented "Conversations Across Cultures: South Asian Imaginaries" symposium on art, video, and music and curated its accompanying "Critical Studio: Dialogue with South Asian Artists" exhibition andforum at Teachers College. She is collaborating with two faculty members from Teachers College on producing a comprehensive publication about this event. Razia is a studio instructor, student-teacher supervisor, and the director of theMacy Art Gallery in the Art and Art Education program at Teachers College.
September 29th, 2009