A Performance Art Series Curated by the
South Asian Women's Creative Collective (SAWCC)
DUMBO Arts Festival 2014
September 27–28, 12–6pm
Performances take place at
The SAWCC Street Hub
1 Main Street (at Plymouth Street)
Brooklyn, New York 11201
SAWCC invites you to revel in and reveal your own contentious, uplifting, and complex notions of Beauty. Share offerings of your precious objects of beauty and be showered with compliments for your most reviled parts. Cringe as a woman chops off her lustrous locks while asking you to contribute yours. Alter a woman's skin complexion in the best way you see fit. Take a selfie with a woman in a  hijab  and see that you both look damn good! Celebrate your beautiful scars and emotional and physical strength through rituals of sound, gesture, and movement.
Beauty grapples with skin color, gender, hair, body image, clothing, and how media influences self-image in this series of interactive performances with Shahnaz Habib; Rachel Kalpana James (with Svetlana Swinimer); Sunita Mukhi; Qinza Najm; Nooshin Rostami; Reya Sehgal; and Purvi Shah, Parul Shah, and Deesha Narichania.
Curated by Shelly Bahl and Sunita Mukhi.
PERFORMANCES:
Objectify
by Shahnaz Habib
Saturday, September 27, 1–3pm
Sunday, September 28, 3–5pm
What do our laundry lines reveal about us, about our notions of beauty, about where we belong and who we aspire to be? Bring your own object to add to this laundry line: a hat, a shoe, an old tube of nail polish, a new dress that you don't fit into, your mother's hair dye.  Put price tags on the objects that are already there.  Objectify the object.
Shahnaz Habib is a freelance writer and the founding editor of the literary magazine Laundry. Her fiction and essays have been published in the Guardian, Newyorker.com, Harvard Divinity Bulletin, The Caravan, Afar, and the anthology Twentysomething Essays by Twentysomething Writers, among others.
Hair Cut Piece 
by Rachel Kalpana James (with  Svetlana Swinimer)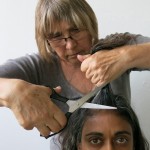 Saturday, September 27, 12–3pm
Sunday, September 28, 12–3pm
Rachel Kalpana James submits herself to an extreme hair cut by Svetlana Swinimer in response to wig-making practices that are sourced from "healthy, luxurious, 100% virgin cuticle hair culled directly from donors in East Indian Temples."  Are you ready to sacrifice a lock of your hair for someone else's beauty?
Rachel Kalpana James' videos, installations, and performance art are inspired by her South Asian heritage and immigrant history and explore the construction of identity and belonging in contemporary society.
Originally from Russia, Svetlana Swinimer uses metaphors and symbols in painting, sculpture, video, photography, installation, and performance with a focus on humanity and science.
Hair Cut Piece is the second performance collaboration by Rachel Kalpana James and Svetlana Swinimer, both of Ottawa, Canada, following  Leaving (2013), performed in The Hague, Netherlands.
My Eyes Adore You
by Sunita Mukhi
Saturday, September 27, 12–6pm
Sunday, September 28, 12–6pm
In this interactive, improvised performance, Sunita Mukhi urges you to confess the one aspect of your physical appearance that you most revile, and she in turn showers you with compliments. You are encouraged to record it with your cell phone or share your contact information so that the artist can text or email you this morsel of positivity for posterity.
Sunita Mukhi is the artistic director of DeviDiva Productions; a proud SAWCC board member; a theater, film, and performance artist; and a writer, cultural manager, and educator. Her upcoming solo show is The Devi Diva Triad in NYC.
#DamnILookGood
by Qinza Najm (conceived with Saks Afridi)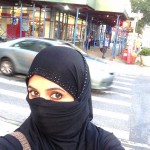 Saturday, September 27, 12–6pm
Sunday, September 28, 12–6pm
Wearing a Muslim veil by choice, Qinza Najm takes selfies with you and posts them on Instagram. With this empowering fabric as her barrier and superpower, she can't be judged on attractiveness and retains complete control of her sexuality, which ultimately is what makes her beautiful.
Qinza Najm is a Pakistani-American artist based in NYC. Her large-scale abstract paintings bridge gaps between Eastern and Western philosophies. Najm's more recent focus on performance art and new media challenges stereotypes created through mass communications.
From the point of view of a "permanent outsider," Pakistani-born, NY-based artist Saks Afridi's sculpture, installation, and digital media works are observations of society, politics, and pop culture. Afridi's work has been featured in the New York Times, the Guardian, the Huffington Post, and CNN.
House of Strength
by Nooshin Rostami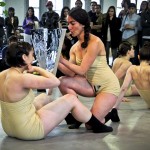 Saturday, September 27, 2–2:15pm and 5:45–6pm
Sunday, September 28, 2–2:15pm and 4:15–4:30pm
This performance is inspired by the traditional Persian gymnasiums called zoorkhane (house of strength), where semi-nude male participants, led by a singer chanting sacred poetry and playing drums and bells, practice physical training as well as virtuous pursuits. Women have traditionally been strictly forbidden from entering these gyms. Culturally diverse male and female artists perform a contemporary rendition of these traditional rituals.
Nooshin Rostami is a Brooklyn-based interdisciplinary artist and educator. Educated in Tehran and New York, she has widely exhibited and presented her work in solo and group exhibitions in the United States and internationally. In 2012, she was invited to do a solo performance at Flux Factory, and she also co-established Studio 417 in Industry City.
Dancers: Jessica Israel, Anahita Mogahaddam, Catherine Murcek, Scott Olsen, Abby Price, Princeton Spicer
Choreographer: Autumn Kioti
Sound Artist: Negar Behbahani
Production Manager: Amirmohsen Shahheidari
Black or White or
by Reya Sehgal
Saturday, September 27, 12–1:15pm and 3:30 to 4:45pm
Sunday, September 28, 12–1:15pm and 3:15–4:30pm
Passersby are invited to beautify the artist's face using skin color-based beauty products, creating a new kind of multicultural subject. Using Michael Jackson's "Black or White" music video—an early '90s paean to multicultural love—as a framing device, this participatory piece explores themes of race and multiculturalism in the beauty industrial complex.
Reya Sehgal (born in Chandigarh and raised in San Francisco) is interested in performances of identity in the public sphere. As co-artistic director of the DIVERSITY FELLOWS! collective, she develops collaborative works that critique both political phenomena and pop cultural tropes—particularly those related to gender, sexuality, and race. She is pursuing her MA in Public Humanities at Brown University.
Mirror Work
by Purvi Shah, Parul Shah, and  Deesha Narichania
Saturday, September 27, 1–1:20pm and 5–5:20pm
Sunday, September 28, 1–1:20pm and 5–5:20pm
When we turn the mirror inward, what do we see? Can we connect with our own vulnerabilities? Can our tender places find connection with others? Through movement, language, and interactive performance art this trio will explore their responses to these questions—and beckon yours. In a world which defines beauty so specifically, let us open up our vast selves, holding our scars and our light. Come and reflect on beauty with us!
Including:Â Meejin Richart, drummer; Jordan Alam; Chaya Babu; Iffat Hossain; Ayeesha Kanji; Amita Manghnani; Anita Singh; Roshani Thakore.
From sharing poetry at vigils to end violence to leading art projects, Purvi Shah, author of Terrain Tracks, spurs community dialogue, change, and healing.
Building on Kathak, a North Indian classical dance form, Parul Shah explores stories to foster understanding, empathy, and relationships between audience and performer.
A gender justice activist, licensed social worker, and somatics coach in training, Deesha Narichania develops creative practices for personal and community healing and transformation, especially for queer communities of color.
Since SAWCC's Movement to Power (2014) workshops, the trio has been collaborating on Mirror Work, a ritual for seeing ourselves through self-compassion, expansion, and empowering beauty.
 
This program is supported, in part, by public funds from the New York City Department of Cultural Affairs in partnership with the City Council.
With special thanks to Monica Jahan Bose, Anjali Goyal, Lisa Kim and Shruti Parekh.