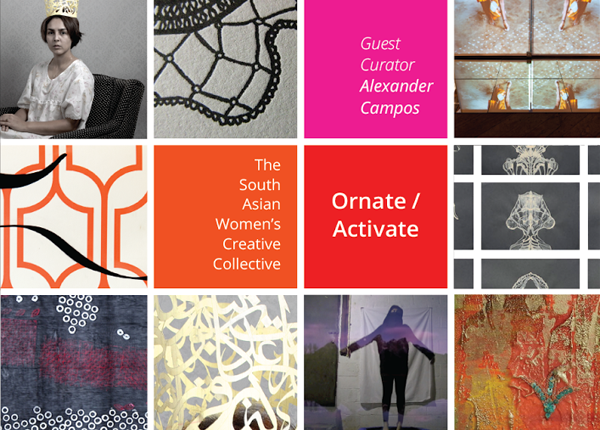 As part of our 20th Year Anniversary, SAWCC presents Ornate / Activate
at the Villa Terrace Decorative Arts Museum (Milwaukee), February 16 – May 14, 2017!
Initially presented in New York City at Shirin Gallery in 2015, Ornate/Activate, examines the use of decorative arts and motifs, architectural elements, scripts, traditional materials, and other forms of pattern-making by artists of South Asian origin to create meaningful and critical content. The exhibition, organized by the South Asian Women's Creative Collective (SAWCC) and curated by Alexander Campos, addresses themes such as inequality stemming from the global economy, loss of language and culture, gender violence, discrimination, segregation, and issues of equality and identity. Artists in Ornate/Activate recognize a need to reclaim tactile and decorative methods of making as a way to address social, political, and economic issues and also to confront the ever-growing presence of technology in everyday life.
Villa Terrace Decorative Arts Museum (2220 N. Terrace Avenue, Milwaukee, Wisconsin)
Exhibiting Artists:​ Nida Abidi, Fariba Alam, Kamal Badhey, Shelly Bahl, Marcy Chevali, Priyanka Dasgupta, Roya Farassat, Asha Ganpat, Parisa Ghaderi, Zainab Hussain, Monica Jahan Bose, Vandana Jain, Umber Majeed, Radhika Mathews, Indrani Nayar-Gall, Nirmal Raja, Sausan Saulat, Suran Song, Udita Upadhyaya
Guest Curator: Alexander Campos
Exhibition Liaison: Nirmal Raja
Opening Reception: Thursday, February 16th, 2016, 6-8pm; Member Preview: 5:30-6pm; Talk by SAWCC representative Monica Jahan Bose, followed by a gallery walk through with Alexander Campos: 6:30pm
Closing Event with Performances & Video Screening: Sunday, April 30, beginning at 1pm: : a performance by Udita Upadhyaya and a reading of Marcy Chevali's work; Patterns of Interaction, a screening of short experimental films curated by Shelly Bahl, followed by a conversation between Ms. Bahl and Negin Sharifzadeh (one of the video artists and exhibition coordinators for the New York exhibition Ornate/Activate).
Video Artists: Poulomi Desai, Rohini Devasher, Jeanno Gaussi, Vandana Jain, Nadia Khawaja, Gazelle Samizay, Ela Shah, Negin Sharifzadeh, Shashwati Talukdar, Ambika Trasi
Ornate/Activate exhibition catalogue will be on sale throughout the run of the show.
SAWCC's events are made possible by the New York State Council on the Arts with the support of Governor Andrew M. Cuomo and the New York State Legislature.