NEW FILMS 2015
Saturday, December 5, 2015
2 pm – 5 pm
@ Asian American Writers' Workshop
110-112 W. 27th St, #600, New York, NY 10001
$10 admission (click here to buy tickets)
The South Asian Women's Creative Collective (SAWCC) is pleased to present New Films 2015, a one-day showcase of short films by South Asian women artists and directors. Featuring video art, animation, television, and documentary work, the selected pieces engage a diverse audience on a range of aesthetic, socio-political, and conceptual levels. Guest curator, Nandita Ahmed, will lead a short panel with selected artists after the screenings.
Featured artists: Sonali Gulati, Farheen HaQ, Shubhra Prakash, Gazelle Samizay, Jennifer Pritheeva Samuel, and Aneesh Sheth.
Space is limited. Please reserve tickets.
BUY TICKETS HERE
---
NEW FILMS 2015 FINALISTS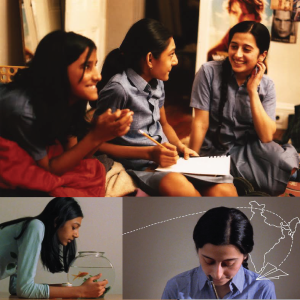 Sonali Gulati
Big Time-my doodled diary, 2015, 11.32 minutes
As "Girls Just Want to Have Fun" dominates the pop charts, Maya writes in her diary everything that rocks her teenage world, from the assassination of Indira Gandhi and her parents' divorce, to the latest pimple that made its appearance. But suddenly not much else seems to matter when a new girl arrives at school. A delightful and intimate exploration of youthful obsession, budding sexuality and what it means to be a teenager, which all too often sucks, big time.
---
Farheen HaQ
The Table, 2015, 5.20 minutes
The Table is a video diptych of gestures that emerge from my subconscious where I tap into a lineage of women who have come before: those who washed by hand, made rotis, ground up spices, swaddled, wrapped and comforted. By wrapping myself in the long tablecloth, I am the baby, the young child and also the grandmother wrapped in a white sari. – Farheen HaQ
---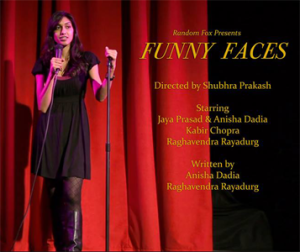 Shubhra Prakash
Funny Faces, 2015, 4.59 minutes
Two female comedians work well as a team. The establishment has laid down the rules, only one of the two is allowed to perform the jokes. Together they must challenge both the establishment and their own beliefs on talent, beauty and being an artist. Funny Faces was a result of a 72 hour film shootout competition, a worldwide contest that is conducted annually by Asian American Film Lab in New York City, where the theme was "Look Deeper".
---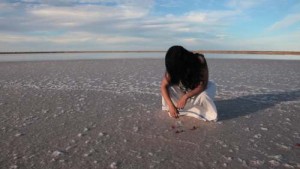 Gazelle Samizay
Left, 2011, 2.51 minutes
In a bittersweet extrication, a woman "cleans house" by casting away relics that have defined her womanhood–broken expectations of love and rigid standards of female purity.
---
Jennifer Pritheeva Samuel
Claiming Our Voice, 2013, 21.00 minutes
Claiming Our Voice is a short documentary film by Jennifer Pritheeva Samuel sharing the stories of Andolan, an organization founded and led by South Asian immigrant women low-wage workers as a means to support each other and collectively organize against exploitative work conditions. The film follows the women as they create, rehearse and refine acts for their first popular multi-lingual theater performance, directed by YaliniDream. Claiming Our Voice seeks to break community silence by allowing women to (literally) set the stage for how their stories will be told.
---
CRAVE: An Original Series by Aneesh Sheth, 2015, 16.02 minutes
Maggie is an actress trying to make her mark in show business and her secret, being transgender, is her greatest asset or her biggest liability on any given day. She's lucky to have the support and love of her two best friends, Bobbi, a gay man stuck in an abusive relationship and Karen, a military wife stuck in a loveless marriage when her husband Mark returns from a deployment in Afghanistan. And just when things couldn't get any harder, Maggie's estranged sister shows up, pregnant, seeking support from Maggie, the sibling she abandoned years ago.
---
We would like to thank  3rdi NY, Brooklyn Brewery and Kettle Corn NYC for supporting New Films 2015. SAWCC's events are made possible by the New York State Council on the Arts with the support of Governor Andrew M. Cuomo and the New York State Legislature. This program is supported, in part, by public funds from the New York City Department of Cultural Affairs in partnership with the City Council.