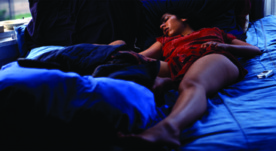 November 18, 2009, 7-9 pm
SAWCC is proud to present a panel discussion in conjunction with Domestic Policy, SAWCC's 12th Annual Visual Arts Show. Domestic Policy covers a broad range of issues, including business, education, energy, health care, law enforcement, money and taxes, natural resources, social welfare, and personal rights and freedoms. The purpose of the discussion is to engage, debate and discuss works in the exhibition in this context.
November 13th, 2009
Tuesday, May 26, 2009, 7-9 pm
"A Change of Heart" looks at performance poetry transformed within the queer South Asian experience. While looking back at the scene, how have we made it our own and transcended identity politics, and what happens now? For example, what other questions of visibility are still left unanswered, etc.
May 26th, 2009
Thursday, May 15, 2008
This video program will feature short, experimental works by South Asian and Arab artists whose work reveals the tenuous nature of storytelling.
May 15th, 2008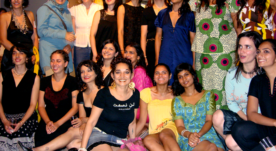 Saturday, August 4 – Saturday, September 1, 2007
As the art world celebrates the work of women artists in 2007 and as SAWCC commemorated its 10th anniversary, this exhibition contributed to the spectacle in SAWCC's truly collective fashion, featuring collaborative works and participatory projects that have been produced through a process of dialogue between South Asian women artists.
August 4th, 2007
Friday, March 7 and Saturday, March 8, 2002
A two-day artists' exchange focusing on fiction and poetry about and by women of South Asian descent raised in the United States, Canada and the United Kingdom. Co-sponsored with Asian American Writers' Workshop with cooperation from the South Asian Lesbian and Gay Association.
March 7th, 2002