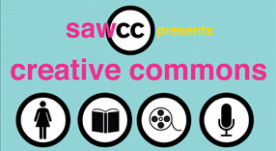 Saturday, December 1, 10 am–12 pm
Creative Commons presents a workshop on writing and performing your work for the stage, facilitated by Roopa Singh (advance sign-up required, click here for more details).
October 15th, 2012
Tuesday, October 23, 2012, 6:30–9pm
Please join us for an evening of engaging artwork, enjoyable company, cocktails, and hors d'oeuvres in Chelsea's renowned Thomas Erben Gallery for a silent auction to benefit SAWCC's future programming.
October 2nd, 2012
Saturday, September 29, 2012, 4-6pm
Join curator Jaishri Abichandani for a walkthrough of the Her Stories exhibition, followed by a panel discussion with participating artists and special guest Dr. Masum Momaya.
September 24th, 2012
Wednesday, September 12, 2012, 7-9pm
Join us for a screening that showcases short film and video works featured in Her Stories, SAWCC's 15th anniversary visual arts exhibition.
August 30th, 2012
Her Stories is in the news! The opening was a great success and the show has been reviewed in the New York Times by Holland Cotter. Check out the Times write-up, as well as videos, photos, and music from the exhibition!
August 17th, 2012