Wednesday, September 12, 2012, 7-9pm
Join us for a screening that showcases short film and video works featured in Her Stories, SAWCC's 15th anniversary visual arts exhibition.
August 30th, 2012
Her Stories is in the news! The opening was a great success and the show has been reviewed in the New York Times by Holland Cotter. Check out the Times write-up, as well as videos, photos, and music from the exhibition!
August 17th, 2012
Monday, July 23, 2012, 6:30-9pm
SAWCC is proud to present a screening of Sarah Singh's award-winning documentary The Sky Below. This courageous and moving award-winning film on the Partition of India evokes both painful memories and raises powerful issues that continue to trouble the subcontinent.
July 18th, 2012
Saturday, August 11, 2012–Sunday, October 7, 2012
Opening Reception: Saturday, August 11, 2012, 3–6 pm
In celebration of SAWCC's 15th anniversary, Her Stories will present the creative works of over a hundred diasporic South Asian women artists, filmmakers, musicians, dancers, and writers, as well as being a retrospective look at SAWCC's past and present with an installation of archival photographs, publications, and ephemera.
July 11th, 2012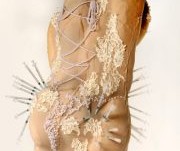 Monday, June 4–Saturday, June 30, 2012
Reception & Gallery Talk: June 15, 5–7pm
In collaboration with Macy Gallery, this exhibition examines and addresses the interpretive dilemmas that are evoked by artworks in an educational context, explored through a curator's gaze.
June 14th, 2012