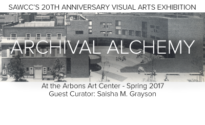 Call for Submissions: SAWCC's 20th Anniversary Visual Arts Exhibition
Archival Alchemy
Guest Curator: Saisha M. Grayson
Submission Deadline: January 15th, 2017
The South Asian Women's Creative Collective (SAWCC) is pleased to announce a Call for Submissions for our annual visual arts exhibition, Archival Alchemy, presented at Abrons Arts Center, April 6 – May 14, 2017.
Archives are often cast as places of nostalgia; institutions for anchoring flights of fancy with the hard reassurance of facts; repositories for reinforcing "History," capital "H" singular "y."  But those who take issue with the historical narratives that these archives traditionally upheld also find them productive resources for contesting the very stability, veracity and singularity that they once seemed to ensure. Countering a dominant linear logic, artists, especially those from diasporic and postcolonial positions, are critically positioned to work their magic on archival fodder—rich with mutable, malleable material that can remixed to new ends.
Artists working with literal archival materials, elements layered with personal and cultural memory, or ideological fragments from the past in ways that creatively reformulate meanings, identities, and historical and future possibilities are encouraged to submit works for consideration. Artworks from across all media are encouraged, including painting, work-on-paper, sculpture, installation, photography, video, performance, internet-based art, and audio works, as well as those caught between.
Saisha M. Grayson is a curator, writer, art historian and teacher focused on the intersections of contemporary art, feminist politics, and cultural activism. From 2011 until February 2016, she was Assistant Curator at the Elizabeth A. Sackler Center for Feminist Art at the Brooklyn Museum, where she organized the Museum's presentation of Wangechi Mutu: A Fantastic Journey, curated Chitra Ganesh: Eyes of Time, and co-curated Agitprop!. Most recently, she co-organized I want a president…(a collective reading – DC), a social engagement and public art project, culminating in an action at The White House concluding this October's Creative Time Summit in DC. Grayson is also a Ph.D candidate at the Graduate Center, CUNY and a Predoctoral Fellow at the Smithsonian American Art Museum in Washington D.C., where she is finishing her dissertation, Cellist, Catalyst, Collaborator: The Work of Charlotte Moorman.  Her writing has appeared in print and online journals, including n.paradoxa, Moving Image Review and Art Journal (MIRAJ), e-flux and in museum and gallery publications.
ELIGIBILITY:
Applicants must be at least 18 years of age and identify as South Asian women or gender non-conforming individuals. SAWCC uses the UN definition of South Asia, which includes: Afghanistan, Bangladesh, Bhutan, India, Iran, Maldives, Nepal, Pakistan, and Sri Lanka, and the diaspora.
SUBMISSION MATERIALS:
1. 6-10 JPEGS of artworks available for the exhibition.
Reproduction / print quality JPEGS (300 dpi minimum) titled as number underscore last name (ex. 01_Chaudhury)
Note: Media artworks can be submitted via direct weblinks to preview works online. Please provide these weblinks & passwords (if required for viewing).
2. Archival Alchemy Submission Form (download here and upload as PDF document)
3. Resume/CV as a PDF document. Please include your name, mailing address, email, telephone number and website (if applicable)

SUBMISSION REQUIREMENTS:
Upload your materials to www.dropbox.com, and put them in a folder titled "SAWCCShow2017_[Your Full Name]". Click the "share" link to share the folder with: vashow@sawcc.org. If you do not have an account, go to www.dropbox.com to set up a free account.
Do NOT submit your application via direct email.
INSTALLATION INFORMATION:
Installation dates/times: March 25 – 29, 10-5 pm (and by arrangement) SUBJECT TO CHANGE
Please note that Abrons Art Center and SAWCC cannot cover art shipping costs in either direction or insurance for artworks-in-transit. Detailed instructions on the installation schedule for accepted works will be communicated to the artists after the selection process. Artists must generally be available to deliver and pick up works directly from Abrons Art Center, but limited exceptions will be considered for out-of-town artists.
Artists will be notified of acceptance in early February.
Please email any questions to vashow@sawcc.org
Image: Abrons Art Center at Henry Street Settlement
SAWCC's events are made possible by the New York State Council on the Arts with the support of Governor Andrew M. Cuomo and the New York State Legislature. This program is supported, in part, by public funds from the New York City Department of Cultural Affairs in partnership with the City Council.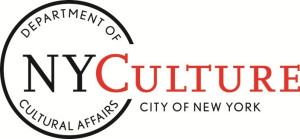 December 1st, 2016